Posts for: December, 2013
By Randall Furman DDS
December 24, 2013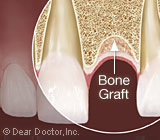 Dental implants are a great choice for many people who need to permanently replace a missing tooth. Reliable and long-lasting, they offer a highly successful outcome, and can even help reduce long-term bone loss and damage to adjacent teeth. One of the best features of implants is that the titanium metal of which they're made actually becomes fused with your natural, living bone tissue.
But sometimes, an examination may show that where you have missing teeth, you may not have enough bone remaining to properly place an implant. Does this mean you're out of luck? Not necessarily!
Employing the refined techniques of bone grafting, regenerating bone tissue has become a standard procedure in periodontal and oral surgery. In many cases, it's possible to build up just the right amount of bone using a variety of grafting materials, in combination with other special techniques. This can enable patients who wouldn't otherwise be good candidates to enjoy the benefits of dental implants.
How does it work? Basically, by helping your body repair itself.
You may already know that bone is a living tissue, which can respond to its environment positively (by growing) or negatively (by resorbing or shrinking). When you've lost bone tissue, the trick is to get your body to grow more exactly where you want it. Once we know where — and how much — replacement bone is needed, we can place the proper amount of bone grafting material in that location. Then, in most cases, the body will use that material as a scaffold to regenerate its own bone.
Bone grafting is often done at the time of tooth removal as a preventive procedure or prior to the placement of an implant, to give the body time to re-grow enough of its own tissue. The procedure is generally carried out under local anesthesia, or with the aid of conscious sedation. Sometimes, if there is enough natural bone to stabilize it, it's even possible to place an implant and perform a bone graft at the same time.
So if you're considering dental implants, let us advise you on what's best for your particular situation. We have the knowledge and experience to help you make the right choices, and achieve the most successful outcome.
If you would like more information about bone grafting, please contact us or schedule an appointment for a consultation. You can learn more in the Dear Doctor magazine article "Can Dentists Rebuild Bone?"
By Randall Furman DDS
December 10, 2013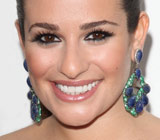 Not long ago, Glee star Lea Michele had all of her wisdom teeth removed. This is a very common procedure that people in their twenties, like Michele, often undergo to prevent serious dental problems down the road. The actress found that the procedure really was actually not very difficult to tolerate.
"Feeling all better from my surgery!" she tweeted to fans a few days later. "Back to work tomorrow."
Why do wisdom teeth so often cause problems? For one thing, they come in years later than the other 28 permanent teeth — usually between the ages of 17 and 25. By that time, there is often no room in the jaw to accommodate them. As man has evolved, the jaws have actually become smaller in size — often creating a lack of space for the wisdom teeth to erupt into proper position. If wisdom teeth become blocked (impacted) by other molars that are already there, infection and damage to neighboring teeth may result.
Sometimes the wisdom teeth themselves cause the problem by growing in at an odd angle. They push against other teeth, often compromising the adjacent tooth's supporting bone. While you would think pain would occur if any of these problems were present, that does not always alert us to a wisdom-tooth problem. It's usually diagnosed with the help of x-rays.
Wisdom tooth extraction is often performed in the dental office using a local anesthetic (numbing shot) to keep you from experiencing any pain, along with conscious sedation to help you relax. The type of anesthesia that's best for you will be determined before the procedure.
After we gently remove the tooth or teeth, you may need to have the site sutured (stitched) to promote healing. You will rest for a short time before going home, and may need to have someone drive you, depending on what type of anesthesia you were given.
Once you get home, you should apply an ice pack on the outside of your cheek for about five minutes on, five minutes off for as many hours as possible to help reduce any postoperative swelling on the first day. Starting on the second day, the warm moist heat of a washcloth placed on the cheek and hot salt water rinses will make you more comfortable. You may want to eat soft foods and brush your teeth very carefully during the recovery period, which lasts only a few days as Lea Michele discovered. Before you know it, you'll be "feeling all better!"
If you have any questions about wisdom teeth, please contact us or schedule an appointment for a consultation. You can learn more by reading the Dear Doctor magazine article "Wisdom Teeth."