Posts for: April, 2018
By Randall Furman DDS
April 22, 2018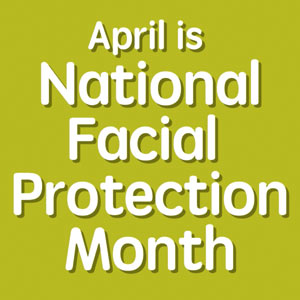 Dental injuries result in thousands of visits to the emergency room every year, and many of these injuries occur while engaging in sports and recreational activities. Whether playing on an organized team or joining a spontaneous game with friends, athletes are much more likely to suffer a dental injury when not wearing a mouthguard. Five national dental organizations have joined together for National Facial Protection Month to urge athletes to use a mouthguard during both practice and games.
The American Dental Association and the Academy for Sports Dentistry recommend using mouthguards for over 30 sporting activities. While it comes as no surprise that mouthguards are recommended for football, hockey and basketball, the list also includes many activities that may not immediately come to mind—among them, surfing, ultimate frisbee, skateboarding, volleyball, skiing and bicycle riding.
In short, it's wise to protect your smile while participating in any activity where your teeth may make contact with a hard surface. A properly fitted mouthguard can prevent injuries to the teeth, mouth and jaw, and may even help protect against head and neck injuries. Even those who participate in casual recreational activities should consider a mouthguard as an insurance policy against future pain and expense.
There are three types of mouthguards: a stock mouthguard that is bought ready to use from your neighborhood store, the "boil-and-bite" type that is formed to the mouth after being softened in hot water, and a custom-made mouthguard that is available from the dental office. Although any mouthguard is better than no protection at all, the best protection and most comfortable fit comes from a mouthguard that is custom-made by your dentist.
If you have questions about preventing dental injuries, please contact our office or schedule a consultation. You can learn more in the Dear Doctor magazine articles "Athletic Mouthguards" and "The Field-Side Guide to Dental Injuries."
By Randall Furman DDS
April 12, 2018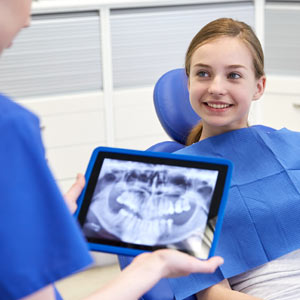 Your child's dental care wouldn't be the same without x-ray imaging. It's one of our best tools for finding and treating tooth decay.
But since x-rays emit radiation, is your child in any danger when they're exposed?
X-rays, an invisible form of electromagnetic energy, will form images on exposed film after passing through the body. Because it takes longer for x-rays to pass through dense tissue like teeth and bones, the corresponding areas appear lighter on the film than less dense tissue like the gums. We can detect decay because the diseased tooth structure is less dense and thus appears darker against healthier tooth structure.
The downside of x-rays, though, is the radiation they emit could potentially alter cell structure and increase the risk of future cancer, especially with children. That's why we follow a principle known as ALARA when using x-ray imaging. ALARA is an acronym for "as low as reasonably achievable," meaning the doses for an x-ray session will be as low as possible while still gaining the most benefit.
Advances in technology, particularly the development of digital processing, has helped reduce the amount of radiation exposure. We're also careful with what types of x-rays we use. The most common type is the bitewing, a device with the film attached to a long piece of plastic that the child holds in their mouth while biting down.
Depending on the number of our patient's teeth, we can usually get a comprehensive view with two to four bitewings.  A typical bitewing session exposes them to less radiation than what they're receiving from natural environmental background sources each day.
Keeping the exposure as low and as less frequent as possible greatly reduces health risks while still getting the full benefit of early decay detection. Still, if you have concerns about your child's x-ray exposure, we'll be happy to discuss our approach and all the precautions we take using x-ray imaging.
If you would like more information on x-ray diagnostics and your child, please contact us or schedule an appointment for a consultation. You can also learn more about this topic by reading the Dear Doctor magazine article "X-Ray Safety for Children."