Posts for: October, 2020
By Randall Furman DDS
October 18, 2020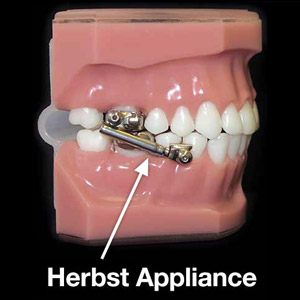 Each year, millions of children and teenagers wear braces or clear aligners to straighten a crooked smile. But there may be a way to treat some of these bite problems and avoid braces—by intercepting the problem at an earlier age.
This can often be done if the bite problem stems from abnormal jaw development rather than misaligned teeth. An example of this occurs when the upper jaw growth outpaces the lower jaw, causing the upper teeth to protrude beyond the lower teeth. Aside from the effect on appearance, protruding front upper teeth may extend beyond the protection of the lip and be more prone to injury.
A device called a Herbst appliance could prevent this from happening. The top of the device has two hinged metal tubes that connect to elastic bands bonded to the back teeth on both sides of the upper jaw. The bottom also has tubes affixed in the same way to the bottom teeth, except they're slightly smaller and fit within the upper tubes.
The lower tubes sliding within the upper tubes produces slight pressure against the lower jaw to ease it forward. This gradually influences the lower jaw to grow at a pace equal with the upper jaw to decrease the chances of poor bite development. Unlike other corrective methods, the Herbst appliance fixed in place and out of the way won't interfere with sports or other physical activities.
An installed Herbst appliance may change a patient's sensations during swallowing, eating or speaking, but most children adapt to the changes within a few days. And, because the device can create challenges for keeping the back teeth clean, many dentists recommend adding a fluoride rinse to daily brushing and flossing as an added boost against tooth decay.
The Herbst appliance is most effective during the period of most rapid physical growth between the ages of 11 and 14, but if the teeth are already beginning to protrude it can be undertaken as early as 8 or 9. Either way, this important orthodontic tool could help address a complicated bite problem and reduce the need for more costly orthodontic treatment later on.
If you would like more information on early interventions for poor bites, please contact us or schedule an appointment for a consultation. You can also learn more about this topic by reading the Dear Doctor magazine article "The Herbst Appliance."
By Randall Furman DDS
October 08, 2020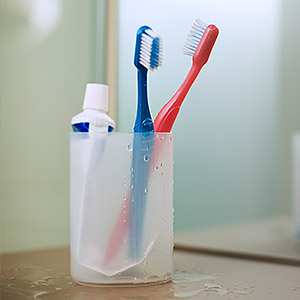 After years of research, we're confident in saying that brushing and flossing daily are essential for maintaining a healthy mouth. A mere five minutes a day performing these tasks will significantly lower your risk of dental disease.
We're also sure about the essentials you'll need to perform these tasks: a soft-bristled toothbrush using fluoride toothpaste, and a roll (or picks) of dental floss. The only deviation might be a water flosser appliance instead of flossing thread.
Unfortunately, some folks deviate even more from the norm for both of these tasks. One of the strangest is a social media trend substituting regular toothpaste with substances containing activated charcoal. The proponents of brushing with charcoal claim it will help whiten teeth and kill harmful microorganisms. People brushing with a black, tarry substance also seem to make for good "gross-out" videos.
There's no substantial evidence to support these claims. Perhaps proponents of charcoal's whitening ability are assuming it can remove stains based on its natural abrasiveness. It could, however, remove more than that: Used over time, charcoal could wear down the protective enamel coating on your teeth. If that happens, your teeth will be more yellow and at much greater risk for tooth decay.
When it comes to flossing (or more precisely, removing food material from between teeth), people can be highly inventive, substituting what might be at hand for dental floss. In a recent survey, a thousand adults were asked if they had ever used household items to clean between their teeth and what kind. Eighty percent said they had, using among other things twigs, nails (the finger or toe variety) and screwdrivers.
Such items aren't meant for dental use and can harm tooth surfaces and gum tissues. Those around you, especially at the dinner table, might also find their use off-putting. Instead, use items approved by the American Dental Association like floss, floss picks or toothpicks. Some of these items are small enough to carry with you for the occasional social "emergency."
Brushing and flossing can absolutely make a difference keeping your teeth and gums healthy. But the real benefit comes when you perform these tasks correctly—and use the right products for the job.
If you would like more information on best oral hygiene practices, please contact us or schedule an appointment for a consultation.