Posts for: April, 2021
By Randall Furman DDS
April 16, 2021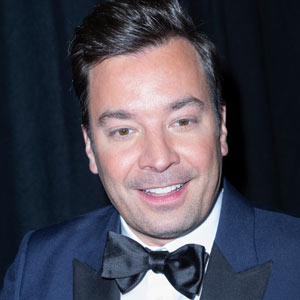 Even though coronavirus lockdowns have prevented TV hosts from taping live shows, they're still giving us something to watch via virtual interviews. In the process, we're given occasional glimpses into their home life. During a Tonight Show interview with Seahawks quarterback Russell Wilson and his wife, R & B performer Ciara, Jimmy Fallon's daughter Winnie interrupted with breaking news: She had just lost a tooth.
It was an exciting and endearing moment, as well as good television. But with 70 million American kids under 18, each with about 20 primary teeth to lose, it's not an uncommon experience. Nevertheless, it's still good to be prepared if your six-year-old is on the verge of losing that first tooth.
Primary teeth may be smaller than their successors, but they're not inconsequential. Besides providing young children with the means to chew solid food and develop speech skills, primary teeth also serve as placeholders for the corresponding permanent teeth as they develop deep in the gums. That's why it's optimal for baby teeth to remain intact until they're ready to come out.
When that time comes, the tooth's roots will begin to dissolve and the tooth will gradually loosen in the socket. Looseness, though, doesn't automatically signal a baby tooth's imminent end. But come out it will, so be patient.
Then again, if your child, dreaming of a few coins from the tooth fairy, is antsy to move things along, you might feel tempted to use some old folk method for dispatching the tooth—like attaching the tooth to a door handle with string and slamming the door, or maybe using a pair of pliers (yikes!). One young fellow in an online video tied his tooth to a football with a string and let it fly with a forward pass.
Here's some advice from your dentist: Don't. Trying to pull a tooth whose root hasn't sufficiently dissolved could damage your child's gum tissues and increase the risk of infection. It could also cause needless pain.
Left alone, the tooth will normally fall out on its own. If you think, though, that it's truly on the verge (meaning it moves quite freely in the socket), you can pinch the tooth between your thumb and middle finger with a clean tissue and give it a gentle tug. If it's ready, it should pop out. If it doesn't, leave it be for another day or two before trying again.
Your child losing a tooth is an exciting moment, even if it isn't being broadcast on national television. It will be more enjoyable for everyone if you let that moment come naturally.
If you would like more information on the importance and care of primary teeth, please contact us or schedule a consultation. To learn more, read the Dear Doctor magazine article "Importance of Baby Teeth."
By Randall Furman DDS
April 06, 2021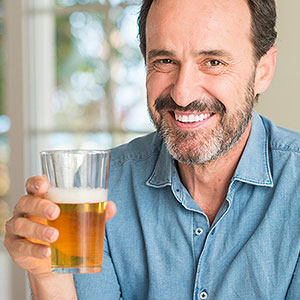 Fermented and distilled beverages have been a part of human culture for millennia. They help us celebrate the joys of life and the companionship of family and friends. But alcohol also has a darker side, if over-consumed: a cause for many social ills, a vehicle for addiction and a contributor to "unwell" being. The latter is particularly true when it comes to oral health.
April is National Alcohol Awareness Month, a time when advocates, public officials and healthcare providers call attention to the negative effects that alcohol can have on society at large and on individuals in particular. In regard to oral health, here are a few ways alcohol might cause problems for your mouth, teeth and gums.
Bad breath. Although not a serious health problem (though it can be a sign of one), halitosis or bad breath can damage your self-confidence and interfere with your social relationships. For many, bad breath is a chronic problem, and too much alcohol consumption can make it worse. Limiting alcohol may be a necessary part of your breath management strategy.
Dry mouth. Having a case of "cottonmouth" may involve more than an unpleasant sensation—if your mouth is constantly dry, you're more likely to experience tooth decay or gum disease. Chronic dry mouth is a sign you're not producing enough saliva, which you need to neutralize acid and fight oral bacteria. Heavy alcohol consumption can make your dry mouth worse.
Dental work. Drinking alcohol soon after an invasive dental procedure can complicate your recovery. Alcohol has an anticoagulant effect on blood, making it harder to slow or stop post-operative bleeding that may occur with incisions or sutures. It's best to avoid alcohol (as well as tobacco) for at least 72 hours after any invasive dental procedure.
Oral cancer. Oral cancer is an especially deadly disease with only a 57% five-year survival rate. Moderate to heavy alcohol drinkers have anywhere from 3 to 9 times the risk of contracting cancer than non-drinkers—and generally the higher the alcohol content, the higher the risk. As with other factors like tobacco, the less alcohol you drink, the lower your risk for oral cancer.
Given its risks to both health and well-being, many people refrain from alcohol altogether. If you do choose to drink, the American Cancer Society and other health organizations recommend no more than two drinks per day for men and one per day for women. Being responsible with alcohol will enhance both the overall quality of your life and your oral health.
If you would like more information about the effect of alcohol and other substances on oral health, please contact us schedule a consultation. To learn more, read the Dear Doctor magazine article "Diet and Prevention of Oral Cancer."