Posts for tag: Missing Teeth
By Randall Furman DDS
March 11, 2016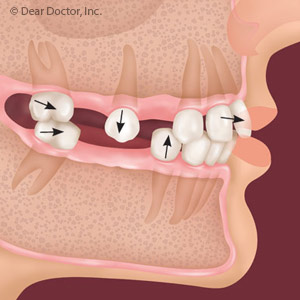 Your front teeth are the stars of your smile — so it makes perfect sense to replace them if they're missing. But is it really necessary to replace a largely unseen back tooth with an implant or bridgework?
The answer is an unequivocal yes. Your individual teeth are an interactive part of a dynamic mechanism that enables you to eat, speak and smile. They're highly adaptable and can move incrementally to accommodate mouth changes — especially when one of them is lost.
Back teeth not only help us chew food efficiently, they also ease some of the pressure from front teeth as we chew. Our efficiency while chewing suffers when they're missing; other teeth will wear faster and tend to move out of position, "drifting" into the space left by the missing tooth. And without their stimulation during chewing, new bone may grow at a slower rate to replace older bone, reducing bone volume over time.
So, whether visible or not, replacing a back tooth is the best course to take to prevent these adverse consequences. Your two best options are fixed bridgework or dental implants, each with their own advantages and disadvantages.
Bridgework has been the traditional method for replacing one or a few missing teeth: they're long-lasting if cared for properly, have a life-like appearance that blends well with other teeth and are a good option when implants aren't. But they require extensive altering of the anchor teeth (those used on either side of the bridge to secure it) and they're highly prone for trapping food between them and the gums, increasing the risk of disease.
Dental implants are easily maintained and their installation doesn't affect adjacent teeth as with a bridge. They're also durable with a 95% success rate after ten years. On the other hand, the installation process can take several months and visits, and they require a certain amount of bone mass for proper placement and so aren't ideal for certain patients.
Regardless of its location, if you have a missing tooth or one that may need to be removed, you should visit us for a complete examination. From there we can tell you how your mouth has been impacted by the missing tooth and which replacement option is best for you.
If you would like more information on tooth replacement options, please contact us or schedule an appointment for a consultation. You can also learn more about this topic by reading the Dear Doctor magazine article "Replacing Back Teeth."
By Randall Furman DDS
October 06, 2015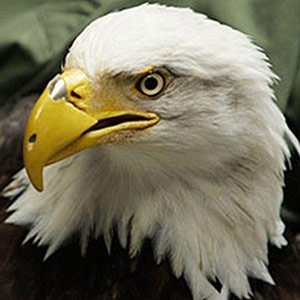 Imagine not having your upper teeth for talking and eating, not to mention your appearance, and you'll have some idea of what Beauty the bald eagle experienced after losing the top of her beak to a hunter's bullet in northern Idaho. She couldn't groom or feed herself and could barely drink water, relying instead on the conservation group that had taken her under their wing for assistance. But the magnificent raptor was eventually made whole and able once again to eat, drink and preen unaided. It took a visionary mechanical engineer and a very skillful dentist who designed and attached the first-of-its-kind bald eagle "dental" prosthetic — dubbed the "bionic beak."
Prosthetic Teeth for Humans
Fortunately, the field of human prosthetic dentistry (or prosthodontics) is much more advanced than it is for our avian friends. We have several options for replacing missing teeth (as well as parts of missing teeth) that restore aesthetic appearance and functionality while potentially preventing other problems such as the drifting out of alignment or loss of remaining teeth.
Bridges. As the name suggests, these custom-made devices span the area that is missing a tooth/teeth. Fixed (not removable) bridges are made up of an artificial tooth/teeth fused between two crowns that fit over your existing teeth or dental implants (see below) on either side of the gap. There are removable bridges, but they are considered temporary fixes.
Dentures. These are custom-made removable replacements for missing teeth. Partial dentures offer a removable alternative to fixed bridges and are used when some teeth are missing in an upper or lower arch (jaw). Full dentures are used when all teeth are missing in an arch. Replacement teeth are embedded in an acrylic base that fits over your gums and mimics their color.
Dental Implants. These are the closest thing to having your own tooth/teeth back. An implant is a small titanium post that is placed in the jawbone beneath the gum to serve the same purpose as a tooth root. Once the bone joins to the implant (a process called osseo-integration), a lifelike crown is attached to it.
We would be glad to discuss which option would be right for you.
If you have questions about tooth replacement, please contact us or schedule an appointment for a consultation. You can also learn more by reading the Dear Doctor magazine articles "Dental Implant Surgery," and "Crowns & Bridgework." Beauty the eagle's story of rehabilitation can be found here: http://blog.theanimalrescuesite.com.
By Randall Furman DDS
November 08, 2013
Did you know that a fourth of adults, age 65 or older, in the U.S. have lost most of their teeth?
Tooth loss is a common problem as you combat tooth decay, gum disease and weak tooth structure. It's a myth that age causes teeth to fall out. Tooth loss results from bad oral hygiene, trauma or other oral health related factors. When you are missing a few teeth, you feel like you need to hide your smile from others. At our dental office, we want all of our patients to have something to smile about, which is why we offer restorative treatments, such as partial
dentures
. Here are eight reasons why partial dentures will turn your frown upside down!
Decrease risk of gum disease
Ease the stress of your jaw
Newly improved bite, without missing teeth, makes it easier to eat
Talk without worrying
Unveil a confident and happy smile to your friends and family
Re-establish a youthful appearance
Establish better facial structure with restorative treatments
Stop other teeth from shifting
Patients will truly appreciate their newly restored smile. Get dentures in Virginia Beach from your Virginia Beach dentist, Dr. Randal Furman.
How are you benefiting from partial dentures? Let us know in the comments! We love to hear from our readers and perspective patients.